The next blog in this series is finally here! Apologies for the delay — I got a bit distracted by summer weather and cycling the Fife Coastal Path. Anyway…
In the introductory blog to the #HashtagScotland project, I mentioned that the writing I'd shared around social media and travel back in 2018 had led me to meet Nicolas Loisel, an eco-tour guide and fellow Scotland lover. We decided, following several coffee-shop chats, to set off on a spring road trip to document some of the most popular places in the country — and to contrast them with the silence of similar scenes a few miles off the tourist track. This is how the project began, and the story of that journey is the one I'm going to share now.
---
'To make a race of it is to reduce to the level of a game what is essentially an experience'
— Nan Shepherd in The Living Mountain
---
Before we went, we talked extensively on the subject — about how travel is changing, how social media reinforces bias in many ways, and about the behaviours we were seeing at iconic spots. We both had some questions in our minds. Mine went a bit like this: Why are people actually visiting sites like Glenfinnan? (Is it for a photo, to tick it off their list, or something else?). Are the stops on a Scotland itinerary predetermined by Instagram, 'best of' guidebooks and movie cameos? And how is the countryside changing thanks to digital tourism? So Nicolas picked me up in Fife and we took the road north.
First stop, Glen Coe.
Despite this glacial valley being a necessary route of passage when travelling to the western Highlands, it's impossible to treat Glen Coe as wing-mirror fodder. The huge hills, dusted in scree and peppered with cottages dwarfed by their surroundings, are breathtaking. I've driven through here many times, yet watching the cloud curl through the glen in endless variations always feels new.
It's therefore easy to understand why there's a growing and steady stream of vehicles along this single-carriageway road, especially in summer. The parking areas too are becoming more crowded; Nicolas's car bumped into potholes and weaved around vehicles on the grass verges of one of them. From the familiar white cottage, the Three Sisters' ridges and the bridge to the second ivory house, there's an irony in how the strategic position of the car parks — probably designed to let visitors sink into the splendour of the landscape, or for walkers heading higher — are now becoming temporary check-ins for photo-taking tourists.
The contrasts between vista and visitor are strange to see.
If the landscape here is timeless, the people that pass through it are mostly ephemeral. The shiny rental cars sit alongside the wild, dirty moor; tourists with waterproofs and cameras are dotted beside the paths like erratics; and previously untouched mounds of earth crumble, peat pouring from underfoot, as tour-bus crowds climb higher to snap something for the photo reel of their mobile phones.
As we were about to leave the valley's final car park, a group pulled up alongside in a people carrier. In brightly-coloured clothing, they were loud in the muted landscape, facing towards a lens which blinked several times before they shut the car doors and disappeared. It made me wonder. If this is increasingly the way in which we're travelling, can we truly experience a place for what it is? Do we remember the sights, smells and sounds of where we stopped? Does going somewhere for a photo reduce the depth of an experience to pure consumption? I was beginning to worry that it probably did.
Second stop, Glenfinnan.
We continued north west through Fort William, and onto the next tiny traffic jam at a Highland hotspot: Glenfinnan. Despite being the site of the Jacobite rising in 1745, this scenic spot on the shores of Loch Shiel is now more widely known — and photographed — thanks to the adjacent railway viaduct or as most know it, the 'Harry Potter bridge'. Visitor numbers increased almost 60% here between 2016 and 2017, a trend that doesn't seem to have reversed (and I pass by here every summer on my family holiday).
Once we finally got parked, avoiding the cone-lined roadside and church car park, we'd missed the steam train by ten minutes. A stream of people were already trickling down from the viewpoint, not seeming to notice signs for the adjacent Glenfinnan Monument, which was noticeably quieter than the crowds implied. We paused in the car park, watching tour buses and vehicles depart as soon as the last puff of smoke had evaporated.
And then, the most interesting moment — we got chatting to a local.
He stood talking to us by the visitor centre, recounting what it was like at Glenfinnan. The car park is usually full an hour before the train arrives, he said. Cones line the roadside to prevent people abandoning their vehicles on the grass verges or corners, or even in the church's private parking area. And, he told us with dismay, there's a 'new breed' of visitor who might shout and swear at the attendants to reach that perfect viaduct vantage point before disappearing in the swipe of a filter.
Despite the fact that the man never explicitly called it out, I couldn't help make the connection between this story and social media. Surely somebody wouldn't expend such effort just to store a bunch of images on their hard drive or in a physical photo album somewhere? It seemed to me, again, that some of the behaviour here must amount to a race for likes and retweets, whatever it took.
Last stop, Ardnamurchan.
Our final stop on the weekend road trip deliberately took us off the classic tourist route in favour of one of Scotland's true wildernesses. Armed with an Ordnance Survey map and a road atlas, we weaved past peaceful beaches, hidden castles, herds of deer on the hillsides and friendly locals.
Something I've noticed time and time again is this — my experience changes when I don't follow the crowd. There are little preconceived notions of what a place should be; no rush to bag the same cliché on my camera roll as everyone else. The worn browns and greys of tarmac and peat are instead untouched, colourful bursts of gorse, ferns and bluebells. The crowds of the geotagged locations are but flocks of sheep or herds of deer, clustered atop a rugged outcrop. It's impossible to scan Google maps for the next Instagrammable place because this is 4G-free Scotland. There are no distractions.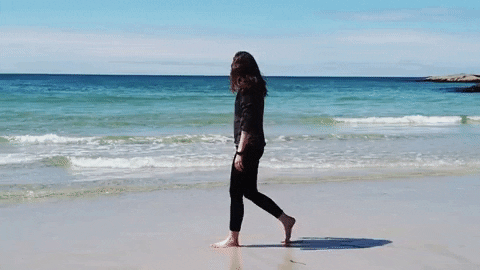 On the Ardnamurchan peninsula, that idea became quite clear to us after following a single track tarmac road to an island. The tide was in, slowly retreating, and we were unable to reach the ruined castle there for almost half an hour. We wandered, with no signal, waiting. Forget the instant gratification of our technological lives, where everything from meals to clothes to flights abroad are available at the touch of a few buttons. When was the last time you truly had to wait for something? I asked myself this, realising that despite and because of the delay, our day felt more special.
Not a single being, save a solitary sheep, was with us.
One of my favourite moments on this quiet coastline was walking through grasses, beside bothies, and over heathery hilltops to reveal a hotchpotch of skerries, cliffs, bays and the wide open water. Not a single being — save a solitary sheep — was with us on that bright-white sand. It was May, and there was the first heat of the summer in the air, so I peeled back the skin of my socks and followed the damp sand to the low tide mark. My feet got cold in the water. I was thinking of nothing aside being grateful for the blue-sky beauty of this place, like last week's anxieties were but trivia, washed away with the waves.
It's probably worth knowing this — when I felt most in sync with Scotland, with myself, with pure peace, was when my phone was in the pocket of my jacket back up on the rocks and my camera was in the car. The experience is not the photo; life shouldn't be lived 'for the gram' — rather it's being still, noticing delicate details from our surroundings, enjoying something for what it really is rather than what you can 'curate' from it that's truly important. And I don't believe we can reap the full benefits of the beauty of a place if we're racing for likes, shares or the tick-box travel photo.
What do you think about how we travel now?
I'll be sharing more writing from the #HashtagScotland project over the next few months. Until then, you can follow me on Instagram where I'll be posting some more words and photos from the trip, and you can follow Nicolas too at @ecitychauffeur.